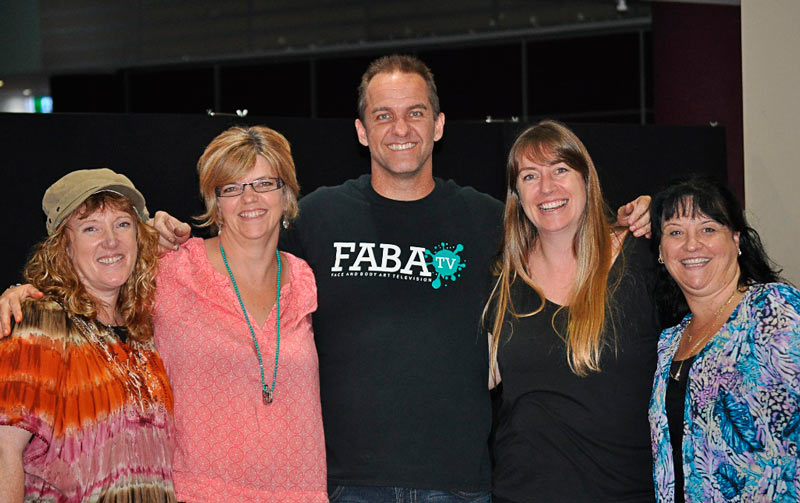 Fun painty times in Melbourne
By Jo Bertram In Blog On 01/04/2014
---
I attended the Australian Body Art Awards and Face Painting Convention in Melbourne at the beginning of April this year and what a fabulous week it was. This is the second time I have attended this event and I love spending time with my painty friends for a week of total immersion in our colourful, sparkly world. It is a chance to put faces to names of facebook friends, spend much needed time with fellow face painters from Adelaide (we don't get the chance to get together often enough), make some new friends and re-connect with friends made last year.
We get to talk paint colours, brush types, glitter, SFX, the right type of eyelash glue to use, which nipple covers are the best for body painting, Chromadepth (UV neon paint), new techniques and designs for hours on end. Instead of boring our conversation partner and have their eyes glaze over after the first 5 minutes (which is what usually happens when I wax lyrical on such things) the person we are talking to is just as fascinated and enthusiastic in such topics as we are – LOVE IT !!!!
Myself and my 3 amazing travelling companions (love those girls) attended a full day pre-convention class with the one and only Mr. Nick Wolfe. Nick is a rock star of the face and body painting world and we all thoroughly enjoyed our class with him. He is not only an amazing artist but he is an amazing person as well and I was overwhelmed with the way he gave his time and his knowledge to everyone he met. All that spent time in his company came away with a big grin on their face and feeling a little bit shinier.
We were then immersed in 3 days of classes, 4 sessions per day with 6 classes available to choose from per session !!! Phew it is exhausting and a lot to soak in but well worth it. I like to take classes that will teach me new designs and techniques to use on the job at parties and events but also take a few classes that take me out of my comfort zone to learn something new that I wouldn't generally do – this year it was Chromadepth which is 3D painting with UV neon paints. SO COOL !! You need to put 3 D glasses on to get the full effect of Chromadepth and sort of un-focus and re-focus your eyes like when you look at one of those ''Magic Eye'' pictures – do you remember those ? I also took a SFX Birds class where we had to choose a foam latex beak to glue (cosmetic glue) onto our faces and turn each other into birds – lots of fun !
Can't wait for next year.
---